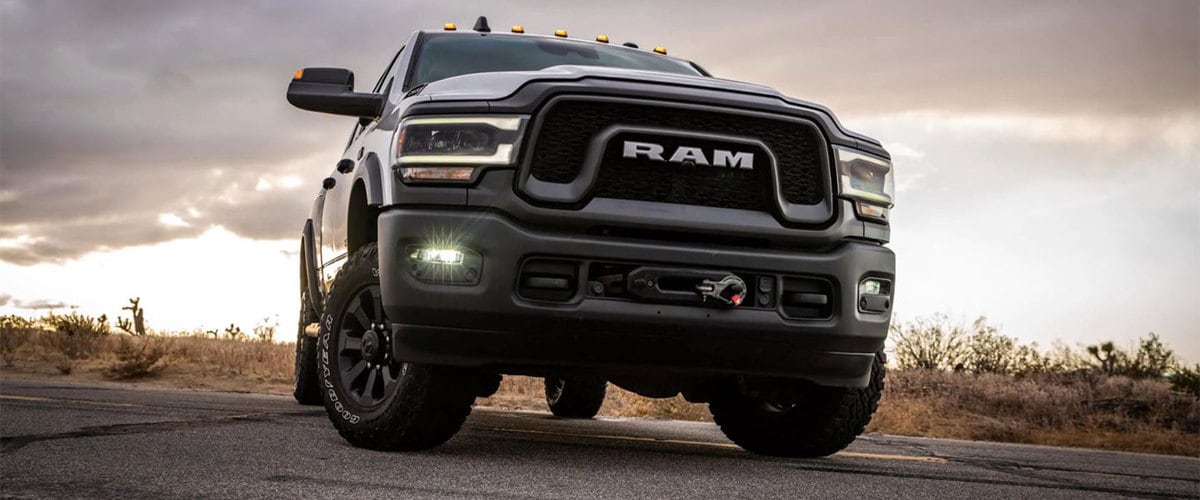 Whether you've been a loyal Ram customer for 25 years or you're new here, we're happy to have you.
The new 2022 Ram 2500
is wise beyond its tread. And if you're in the market for a new pickup truck, we've got you covered. The Ram 2500 features a plethora of modern edges while holding the essence of agility and peak performance that put it on the map in the first place.
There are endless variables in the combinations of cab configurations, wheel size, engines, and cargo box lengths. Historically, Dodge is known for giving its customers the opportunity to choose. And if you're looking for a new full-sized truck in Kingfisher OK, we've got you covered. Dodge continues to blow competitors out of the water,
ranking first and second
in JD Power's Initial Quality Study. So, without further ado, let's break it down.
Trim Levels 
This year, Ram's line-up offers versatility, functionality, and style in each of their trim levels. All 2500 levels offer two-wheel or four-wheel drive, with varying cab extensions. Reliable, malleable, and ready for high-powered function.
There are a few universal enhancements to the 2500
, but each trim level contains features that are unique to its class.
You can find the classic torque, smooth ride, and adjustable metrics whether you're towing, off-roading, or hauling precious cargo. Taking your new Ram 2500 for a test drive before purchasing can help you decide what trim level speaks to you. Consider the engine specs you're looking for and the focus of your Ram's objective. If you're a heavy hauler, there are options that cater to the horsepower needed to pull off a seamless tow.
If you're a backwoods and byways savant, think about the protective gear your trim choice comes adorned with. There's a little something for everyone in this 2022 upgrade of our favorite model. 
We know that Ram is always taking things to the next level. Keep reading for 2022's snapshot of next-level living.
Tradesman
The tradesman sets the Ram 2500 foundation by offering the classic standard of wheels and a vinyl-covered bench for a little extra something, and if vinyl isn't your style, cloth seats are available. The Tradesman is built to perform under tough conditions while maintaining its sleek body. At your disposal is a digital rearview mirror with an LCD monitor that offers a real-time, rear-facing video stream when powered on. 
Standout Features:
  •
Engine Variations to Fit Your Needs: choose your own adventure with a gasoline-powered 6.4L V8 under the hood or the bite of a 6.7L L6 diesel machine
Big Horn
From the tradesman, the Big Horn was born a natural beauty. This six-seater has 850 lb-ft coming in hot from the 6.7L Cummins Turbo Diesel 16 engine. Monitor the status of your trailer through the Big Horn's modern tire pressure gauging system and trailer light check to ensure your safety every single step of the way. 
Standout Features:
  •
Enhanced Safety Precautions: built into your vehicle, LaneSense has a lane departure warning system, keeping your safety a priority 
  •
Entertainment for All Ages: Uconnect 3, an infotainment system to keep your passengers occupied
Power Wagon
The power wagon is built for off-roading and no terrain is too tough for this beast. With a 115-volt outlet and auto-dimming mirrors, you'll be powered up and in style everywhere you go.
Standout Features:
  •
Undercarriage Protection: skid plates make this trim shine; its main mission is to preserve the delicate nature of parts like your fuel tank while off-roading
Laramie
The Laramie features an alpine audio system that is home to 9 speakers. They come in handy when setting the ultimate road trip mood or enjoying a beautiful summer day with your favorite tune cranked to the max. 
Standout Features:
  •
Dual-zone Auto Climate Control: the perfect compromise, accommodating those who can't agree on a standard cab temperature
  •
Heated Steering Wheel: when you're rushing out of the house making sure the kids are bundled up and you forgot your gloves, perfect for those below freezing temps 
Laramie Longhorn
Those high beam assists, outboard memory-based mirrors, and chrome finishing really tie the longhorn together. This upgrade takes the original Laramie up a few notches with its leather-wrapped grab handles, power-adjustable pedals, and a spray-in bed liner.
Standout Features:
  •
Visibility & Maximum Comfort: rain-sensing wipers are the ultimate upgrade, followed closely by ventilated seats to keep you cool on those hot summer days
  •
Bright Signals and Top-Notch Lighting: The remote tailgate and LED bed lighting upgrade makes this trim especially unique
The Limited
The Limited takes the cake by combining the features of every other trim level with a luxury interior. With its unparalleled comfort, 20-inch wheels, and 12-inch touchscreen (double the size of other trims), the Limited ranks high on our quality truck radar.
It offers cargo tie-down hooks that can be adjusted per loading, power-deployable running boards, and aluminum accents on its interior. This trim level features a Rambox cargo management system that holds lockable cargo bins for secure stowaways. With real wood accents, it's hard to ignore the ultimate quality that the Limited provides.
Standout Features: 
  •
Eyes in The Back of Your Head: radar-based blind spot monitoring that cautions other vehicles approaching too close for comfort
  •
Digit-less Accessibility: power running boards deploy immediately as soon as the doors open, they automatically retreat upon closing, too 
Your New 2022 Ram 2500 Awaits
When it comes to purchasing a high-performance full-size truck, we know it's hard to compromise. And with this new series of 2022 Ram 2500s, you won't have to.  Knowing you can convert your full-sized pick-up into a family road trip or for shop use lets you travel confidently with the security you deserve. The new 2022 Ram 2500 at
Johnson's of Kingfisher
can set you up with the cab of your dreams. If you're ready to receive a quote on your new Ram,
contact us
by filling out our form and submit your inquiry. If you're interested in more of Chrysler, Dodge, Jeep, RAM top models check out our
research hub
!