Revealed: The All-New 2014 Jeep Grand Cherokee                                                                             Friday, August 30, 2013
The 2014 Jeep Grand Cherokee combines high-quality off-roading ability with a slick, stylish appearance.  With many vehicles sacrificing superior motoring for a glamorous presentation, or simply reversing those values, the 2014 Grand Cherokee offers both.  It boasts high ground clearance, a meaty V-8 engine, and a tough 4 x 4 system, but manages to combine this with automobile technology that sits at the forefront of innovation. 

The 2014 model offers voice-controlled command pads, a new uConnect touchscreen control deck which integrates features that work in hand with the best smartphones.  The control deck allows drivers to dictate texts while driving and browse for the best local restaurants, including other must-sees through Yelp - allowing the driver to both comfortably and safely use smartphone features while driving. 

Just looking for a great ride?  The 2014 Jeep Grand Cherokee also includes temperature-adjustable leather seats and Hill Ascent Control, allowing the driver to easily mount tricky terrain.

But it hasn't sacrificed looks for brains!  Available in a variety of striking color schemes, it represents the new off-roader.  This high-performance vehicle is for the driver who wants to be able to go off the grid in comfort and style, but perhaps find a nice restaurant to refuel at on the way home.

For more information, contact us by email or by phone (888) 872-6164.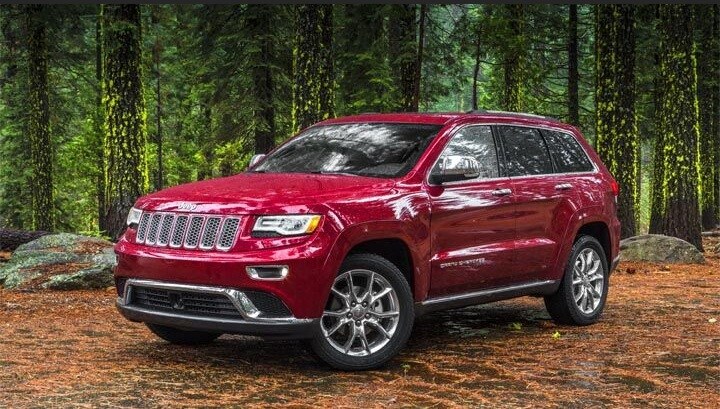 Unleashing Raw Power, Best-In-Class Mileage with the 2014 Dodge Ram 1500                            Monday, August 26, 2013

Redefining fuel efficiency in the pickup truck segment, the 2014 Ram 1500 offers as much as 20 percent better mileage than other vehicles in its class with 305 horsepower with a V6 engine and 395 horsepower with the Hemi V8. The biggest newsmaker, however, is the model's all-new EcoDiesel V6 variant, which has a maximum towing capacity of 9,200 pounds and an impressive fuel economy rating of 25 mpg on the highway.
Expecting big bumps on your off-road adventure? It's no big feat for the new model's air-suspension feature, which raises and lowers the body clearance when off or on the road for better aerodynamics ? not to mention enhanced ride control, loading and mileage. Plus, feel safer with a reinforced and stiffer frame with high-strength steel.
Every bit as iconic as the fist Ram pickup of the 1980s, the 2014 Ram 1500 is also a modern marvel in its own right with state-of-the-art electronics supporting voice control, mobile phone texting, a configurable 7-inch screen and upgradeable software.
See the Ram 1500 to see for yourself if it lives up to the hype by checking out the new 2014 model at Johnsons of Kingfisher at (888) 872-6164.